A key component of the Philadelphia Sports Hall of Fame is its commitment to youth sports, specifically targetting local youth at the pre-teen, grade school level. The goal is to promote the history of Philadelphia sports to our youngest of fans while encouraging active participation in athletics.
Using sports as a vehicle to directly impact the lives of local young people, the Hall has supported or formed partnerships with various like minded organizations in the greater Philadelphia area. The Hall seeks groups who strive to teach area youth valuable life lessons such as sportsmanship, personal discipline, and the importance of academics. In essence, they provide educational and recreational opportunities through sports with an emphasis on improving the lives of our treasured young. Below is a sampling of organizations the Hall has supported since the formation of Hall of Fame Charities in 2004.
Richie Ashburn Baseball Foundation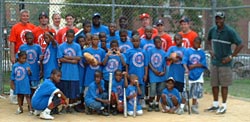 The Hall's initial youth sports sponsorship endeavor. It provided a four day baseball camp free of charge for 28 local boys and girls at the Francisville Recreation Center in the Fairmount section of Philadelphia. The foundation is dedicated to helping kids in the city and surrounding communities through the teaching tool of baseball.
---
PAL – Junior Golf
The Police Athletic League's mission is to make a positive difference in the lives of young people and, in doing so, contribute to the overall quality of life in Philadelphia. By providing free educational, athletic and cultural after-school programs in a safe environment, PAL teaches life skills and provides experiences essential for youth to become successful and productive citizens.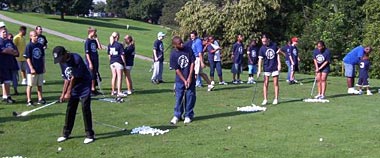 ---
Arthur Ashe Youth Tennis and Education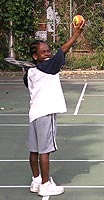 AAYTE works to create and promote opportunities to improve the quality of life of young people through tennis and education. It targets children ages four to eighteen years, many from underserved, at-risk, multicultural populations. Through recreation, academic and mentoring services, AAYTE provides these youngsters with positive life lessons and teaches important personal skills such as self-discipline, self-reliance, good sportsmanship and non-violent conflict resolution, all in a constructive, safe and nurturing environment. It provides year-round instruction and tennis programs to over 10,500 children in the Philadelphia area.
---
Bruce Simon Southampton Summer Basketball Camp
The Hall sponsored 10 girls and boys to attend a two week basketball summer camp in south eastern Bucks County. Each child was instructed to write a one page essay on a Philadelphia Hall of Fame Inductee.
---
The First Tee of Philadelphia
This organization located at the FDR Golf Course in South Philadelphia aims to impact the lives of young people by providing learning facilities and educational programs that promote character development and life-enhancing values through the game of golf.
---
Ed Snider Youth Hockey Foundation
(Charter Member)


The Foundation's goal is to afford a positive impact on the lives of underserved children in the Greater Philadelphia region by providing programs that incorporate both on-ice and off-ice activities. It provides children in the greater Philadelphia region with the equipment, ice time and experienced coaching needed to play hockey. In addition, it aims to supplement their academic and personal development by stressing the importance of schoolwork and citizenship skills.