Cheltenham Girls Basketball
Pride of Philadelphia
PIAA AAAA State Champions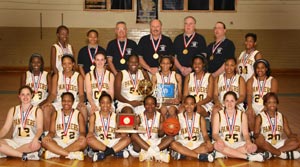 The 2007 Lady Panther Basketball began their championship season with a most unusual 1-3 record. They were a talented group of young ladies who liked playing basketball, but to become a top team, they needed to learn to work harder at their game. During the holiday vacation they traveled to Naples, FL to participate in the "Naples Daily News Holiday Shootout", a highly regarded national invitational tournament. They returned to Cheltenham having won 3 out of the 4 tournament games.

As the season progressed, the Lady Panthers became a stronger and more determined team. Their league, the Suburban 1 American League was a highly competitive and Cheltenham had to play their best against league rivals like Upper Dublin and Methacton and also non-league powers like State College and Germantown Academy.

After being seeded #9 in the District I playoffs, the Lady Panthers defeated Conestoga and Pennridge in two intense District I playoff games. The Lady Panthers moved on to the state playoffs defeating Simon Gratz and then a pesky and physical Harrisburg team. The only way that Cheltenham could make it to the state final was to play through the West. Not only did they play, but they easily defeated both Hempfield and Upper St. Clair, placing them in the state final against their rival from the East and also a Suburban I team, Council Rock North.

The 2007 State Championship was played for the first time in Bryce Jordan Center at Penn State University in State College. The Lady Panthers, led by the PIAA AAAA Player of the Year, Ashley Gale, opened an 11-0 lead and never looked back. Through their determination and teamwork, the Lady Panthers achieved the unexpected, the 2007 PIAA AAAA State Championship.
RECORD 27-6
Roster:
1-Misha Horsey
12-Christie Kershaw
20-Toni Valentine
22-Alexandra Ingram
23-Ashley Gale
24-Jarae Payne
25-Jackie Kershaw
32-Shayla Felder
35-Nicole Pender
40-Shanira Blake
42-Dayna McCrewell
43-Alana Brown
44-Khalisa Abdur-Rahman
54-Brittany Gunn
00-Jenna Peoples
Head Coach-Bob Schaefer
Asst. Coach-Mike Houghton
JV Coach-John Rogalski
9th Grade Coach-Andrea Jones
Scorekeeper/Scout-Tony Houghton
Videographer-Roonide Paul
Statistician-Teronda Barnes
Athletic Director-Scott Layer
Principal-Elliott Lewis