Smarty Jones
Pride of Philadelphia
Kentucky Derby / Preakness Stakes winner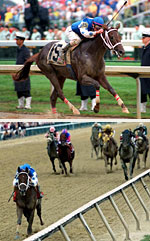 Remember the story of "The Little Engine that Could"? Despite being told that it was too small to make it, The Little Engine persevered and ultimately made it up that hill.

In the spring of 2004, the world was treated to a slightly altered version of this classic story as "The Little Horse that Could" displayed perseverance and fortitude that would make any engine proud.

The "Little Horse" is Philadelphia's own Smarty Jones. Critics and skeptics were numerous, and Smarty was often touted as too small to withstand the enormous pressure of competing in the Big 3: The Kentucky Derby, The Preakness Stakes, and The Belmont Stakes. The also doubted that a horse from Philadelphia Park would compete with the bluebloods of Kentucky. Critics and cynics remained staunch even when Smarty entered The Kentucky Derby as the favorite.

When the tenth race at Churchill Downs on the first Saturday in May 2004 – more famously known as The Kentucky Derby- was finished, "The Little Horse that Could" had made it up that hill and captured the interest and imagination of horse racing fans and non-horse racing fans around the country and the world.

Two weeks later in the second leg of the Triple Crown, Smarty outclassed the field as an eleven and a half length winner, topping the winning margin of ten lengths set by Survivor in the inaugural running of The Preakness in 1873.

But as is the case with any successful athlete, this was a team effort.

First and foremost, are owners Roy and Pat Chapman. The Chapmans, already recognized locally for The Chapman Auto Group, began breeding and racing horses in the late 1980's. In February of 2001, the Chapmans bred a horse on the farm they owned in New Hope, Someday Farm. They decided to name the horse after Pat's mother, whose nickname was Smarty.

But soon after Smarty Jones was foaled, the Chapmans' trainer Bob Camac and his wife were murdered, and the Chapmans considered leaving the horse racing business. The decided to stay, but sold all of their racing stock except for two horses. One was Smarty Jones.

Looking for a trainer for their two horses, the Chapmans turned to a friend of Bob Camac, John Servis. A native of West Virginia, Servis eventually found his way to Philadelphia Park, where he worked as a jockey agent and assistant trainer before venturing out onto his own. He also came from a horse racing family; his father, a jockey, had managed the Jockeys' Guild for eleven years, then served as a steward in West Virginia for 18 years.